The perfect travel companion just made things easier for you at home! The Sonic Soak Ultrasonic Cleaner is fast becoming the most versatile portable electric washing device out there!
Originally designed to clean small batches of clothes for travellers, the Sonic Soak now can also clean items such as your shaver,your hair brush and many other items tha are too difficult to clean properly
The Sonic Soak Ultrasonic Cleaner is a palm-sized device that cleans virtually anything, it uses ultrasound technology to clean items on a molecular level. It does this by using ultrasonic soundwaves that penetrates material and lifts off stains and dirt off of items for a hassle-free, and hands-free cleaning.
Simply fill out a pan or sink with water, add soap, and leave the Sonic Soak in it together with your items. It will automatically turn off as soon as the timer runs out and leaves your stuff clean!
Features:
For best results, use warm water.

Timer presets; 120, 360, 720, and 900 seconds.

Place Sonic Soak Ultrasonic Cleaner in the center of the container for an even cleaning action

Adjustable Ultrasonic Frequency

Portable 
The Sonic Soak Ultrasonic Cleaner is so effective it can even clean your jewelry without scratching it or risk losing precious stones. Ultrasonic sound waves is guarantees that no matter how fragile the item is nothing but the gunk and dirt gets lifted off of your items and no parts will ever be damaged while being cleaned by the Sonic Soak.
This is the perfect travel companion while travelling, and simply the best all-around cleaning tool you can get.
It is very easy to use. you simply plug it, soak, and forget it. It is that simple to clean anything!
Get your Sonic Soaker Ultrasonic Cleaner NOW!!
How Sonic Soak Works
Sonic Soak generates modulated ultrasonic waves that travel through the water to clean at the microscopic level. So you can "wave" goodbye to dirty and say hello to a genuinely clean load of laundry.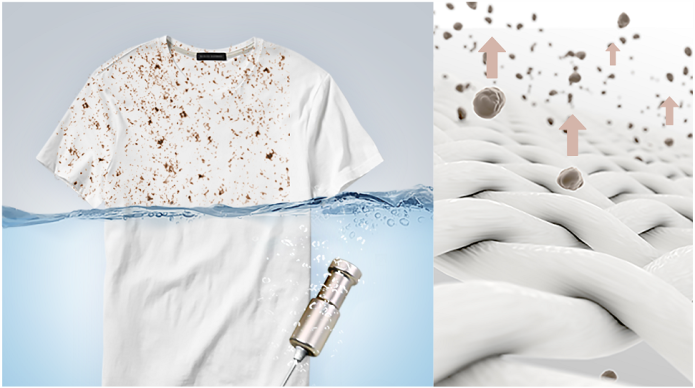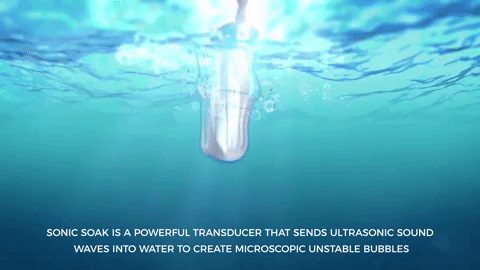 The device sends out ultrasound to generate microscopic cavitation bubbles.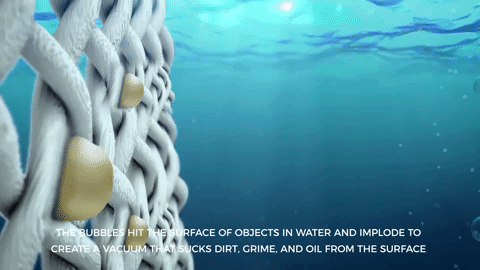 Cavitation bubbles implode and this pressure, washing out contaminants.
Sonic Soak is convenient, compact, and easy to use (4 easy steps)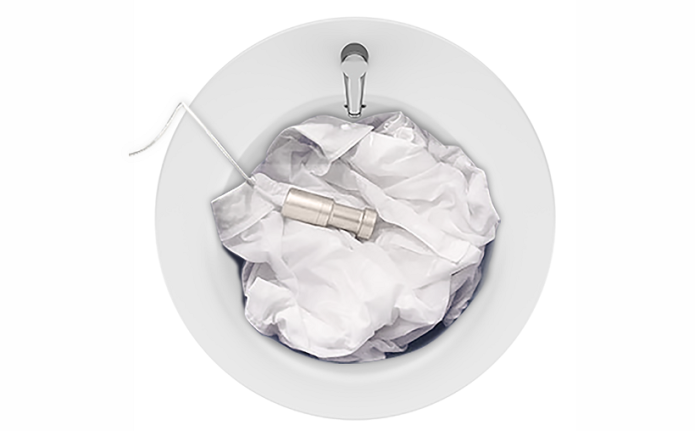 What Can Sonic Soak Clean?
Sonic Soak is the only device that can clean virtually anything that will fit into a container of water (no ultrasonic floor cleaner yet - but hopefully soon!). But more importantly, Sonic Soak cleans everything better than anything else in your house.
Think you don`t need it?  Think again.
Your laundry is gross




Many studies have shown that standard washing machines do not kill enough germs and bacteria, turning your laundry into a living, breathing bacterial soup. Over time, this bacterial soup gets into your "freshly washed" clothes, dish towels, and face towels - into you and your family`s body and food.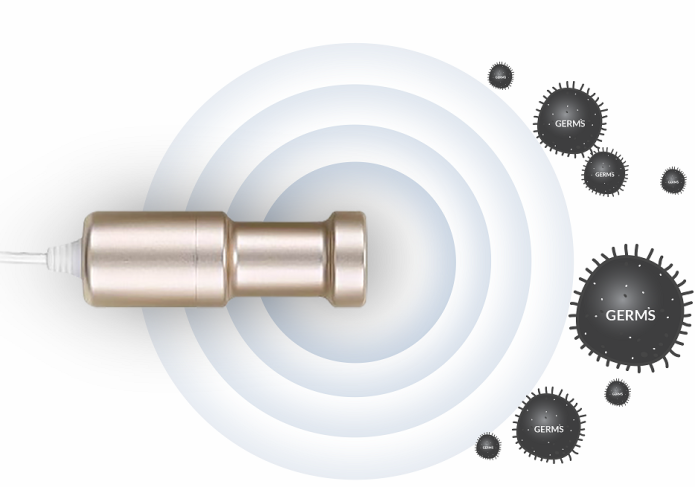 Why Sonic Soak?
Deeper cleaning than ever before
The gentle cleaning from Sonic Soak is perfect for delicates, hand wash only items, and hard-to-clean items that can't stand the ferocity of the washing machine. Sonic Soak thoroughly cleanses items without causing excess wear and tear that traditional washing machines create through their tumbling mechanism, and is even gentler than traditional hand washing.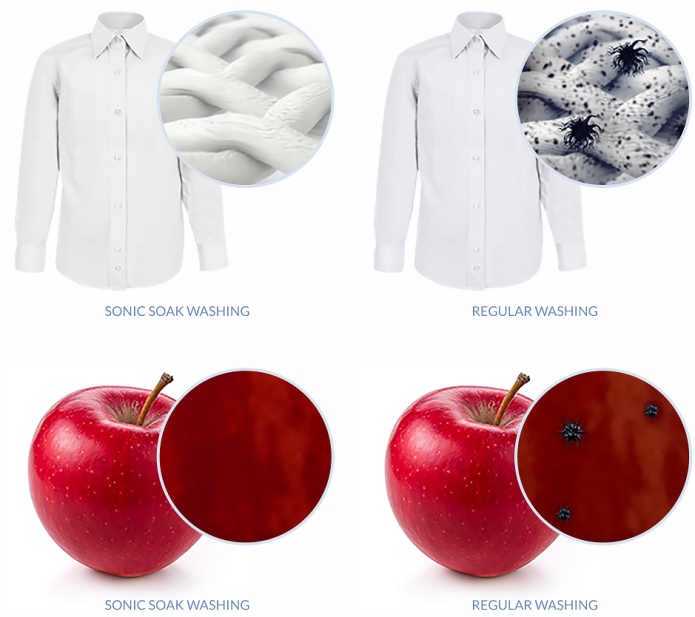 Ultrasonic technology cleans things better than anything else in your household
Travel easier
When traveling, imagine having an unlimited supply of clothing, but just carrying a single bag. This is only made possible by Sonic Soak. Go ahead, soil your best hand-wash only shirt on the first day of your trip. Sonic Soak will come to the rescue. No need to call laundry service - let Sonic Soak do the rest, and you'll have a brand new shirt in minutes.

Weighing less than 4 ounces and measuring less than 5 inches, just throw it in the bag and go!
All-in-one cleaner
Does your washing machine clean apples? We didn't think so. Sonic Soak operates as much more than just a laundry washing alternative. It also expertly cleans fruits, vegetables, accessories like glasses and jewelry, and also works great to wash those pesky, hard-to-clean items like baby bottles, carafes, razors, and the like. Sonic Soak cleans all these and more: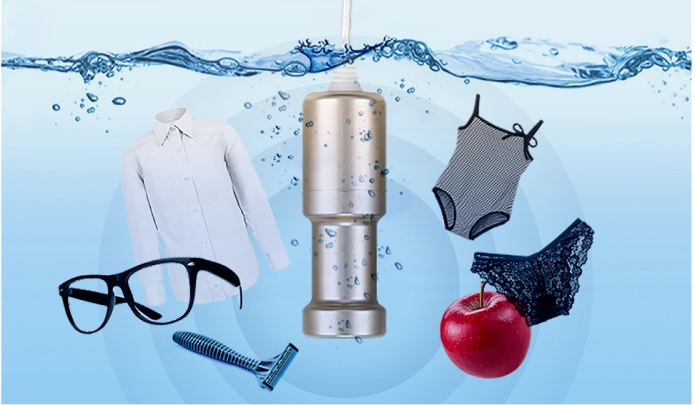 Microscopically clean things you never could before

Convenience and Conservation